10-day South Island Itinerary, New Zealand
Best known for it's snow-capped mountains, fjords, majestic lakes, golden beaches and dense rainforests, the South Island has a distinctly different feel to the north. There's a lot of beauty and experiences to fit in during 10 days, but we've created the best backpacking itinerary out there in order for you to make the most of your backpacking trip in New Zealand.
Day 1: Drive your car on board the Interislander ferry from Wellington at 9am. Sit aboard the top deck and basque in the beauty of the Marlborough Sounds as you sail down the Cook Strait. Named after James Cook, the first European commander to sail through it, it is known for both its beauty and unpredictable waters. Keep a close eye out, and you may even see dolphins!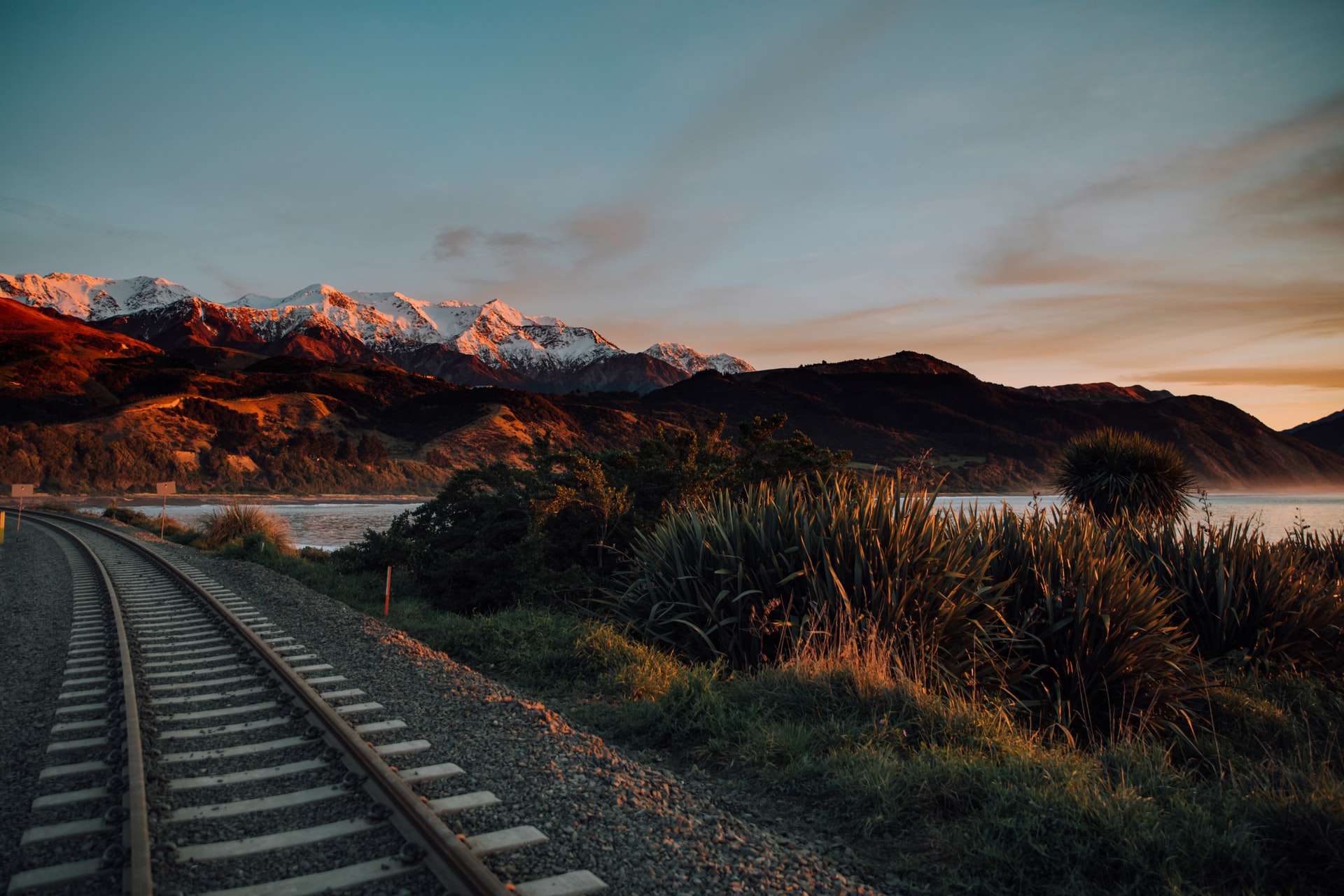 Drive your car off the ferry and make your way down the east coast to the coastal town of Kaikoura. Known for its abundant wildlife and sperm whale population, Kaikoura is a spectacular setting where mountains meet the sea. Have a coffee and try and spot a seal at one of the South Island's largest seal colonies at Point Keen.
Get back in the car and continue driving south to Christchurch, the South Island's largest and oldest established city. Badly hit by the deadly 2011 earthquakes, Christchurch has slowly risen from the ashes, with large parts of the city now rebuilt with a distinctly modern and artsy feel. Check into the Jailhouse Accommodation or the YHA Christchurch Backpackers. After a day of driving, you will probably need to hit the sack early!
Day 2: Have breakfast at one of the many trendy modern cafes this city has to offer such as Unknown Chapter or Black Betty Cafe, before hopping on the historic tram and taking an interactive tour around Christchurch. At $19.90 a ticket, this is money well spent, with popular local attractions, history, and insider tips just some of what makes it a great backpacking experience.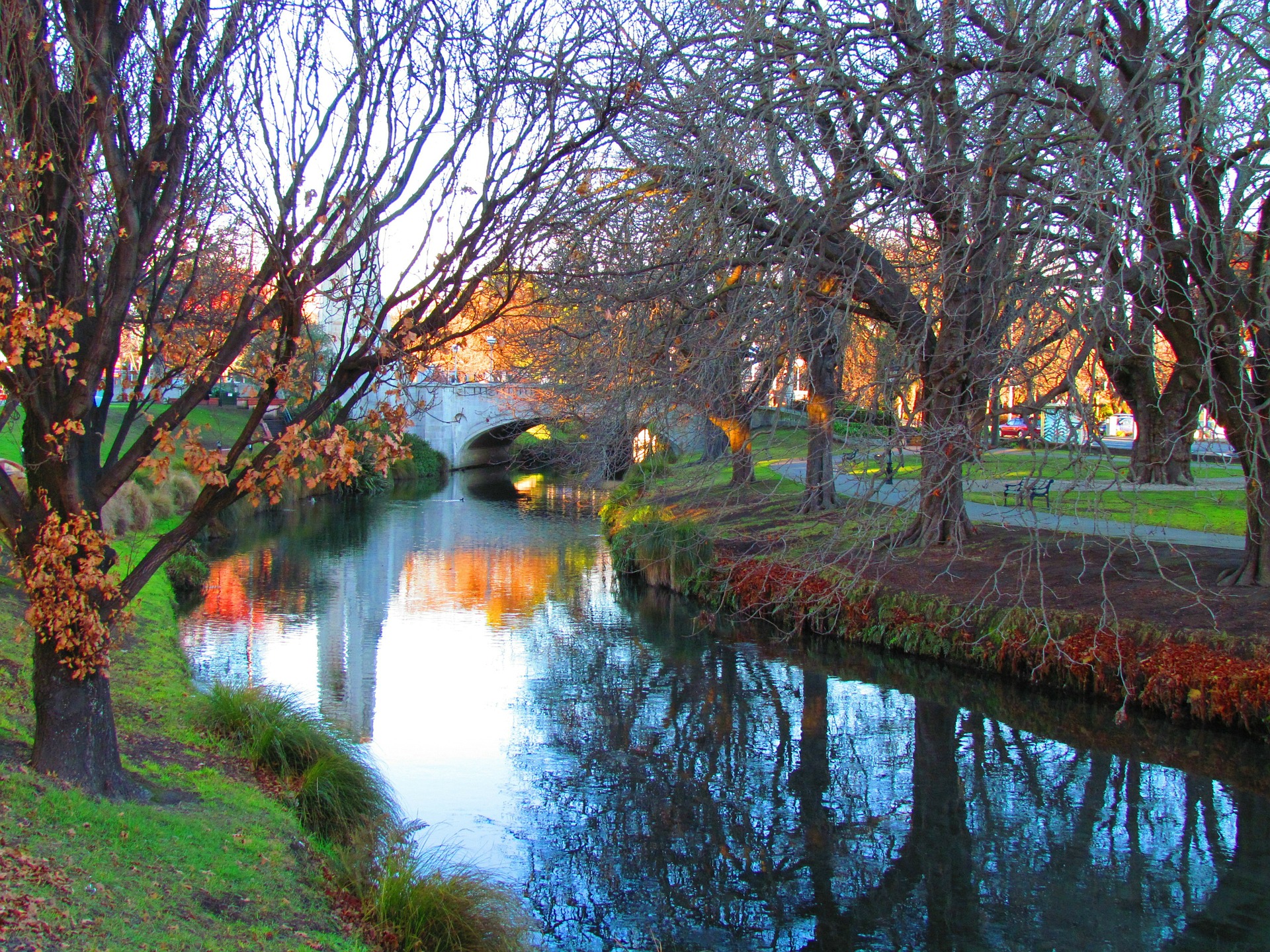 In the afternoon, hop in the car and make your way to Wanaka, stopping off for a picture-perfect snap of the stunning Lake Tekapo and Lake Pukaki. The turquoise coloured lakes are the result of glacial erosion, creating fine silt particles in the water. You'll never see another lake quite this blue!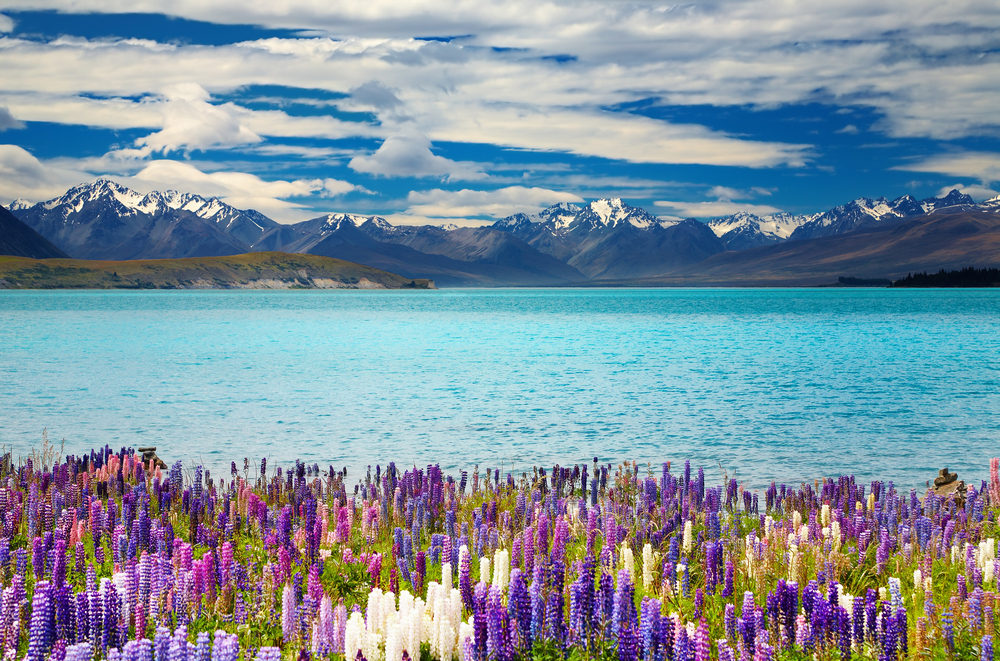 Continue through Mackenzie District and take a snap of the magnificent Aoraki Mount Cook, New Zealand's tallest mountain as you whizz by, before finally arriving in the popular resort and ski town of Wanaka. The gateway to the Southern Alps' Mount Aspiring National Park, a wilderness of pristine lakes, beech forests, and glaciers, two of the most popular ski resorts, Treble Cone and Cardrona, are in this area. Wander through this picturesque town in the evening and watch the sunset over the majestic lake while munching on Erik's famous Fish and Chips. A popular backpacking town, take your pick of one of the many they have downtown.
Day 3: A day in Wanaka is a day wasted if you don't attempt the Instagram-famous Roy's Peak. One of the most stunning day hikes this island has to offer, the zig zag track winds through thick farmland and tussock before arriving at the peak, with 360 degree views of Lake Wanaka, Glendhu Bay, and Mt Aspiring/Tititea. Make sure you bring a drink bottle and food, with this 5-7 hour hike no easy feat, but well worth every drop of sweat.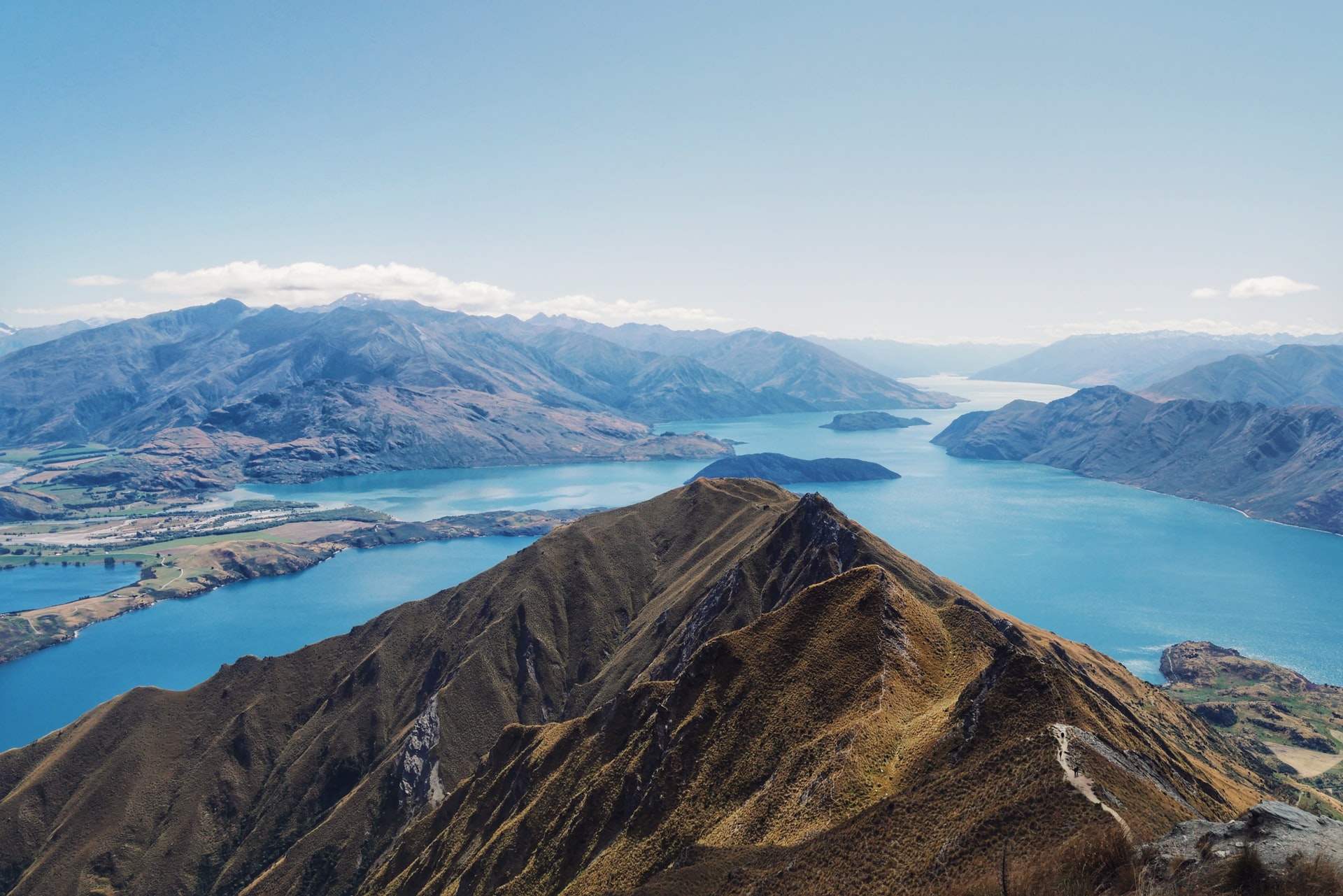 If you're after a less strenuous day, hire a paddleboard on the lakefront or check out Puzzling World, Wanaka's Wonderful World of Weirdness. Stay another night in Wanaka and soak in the natural beauty of this stunning town. You will sleep well tonight!
Day 4: Grab another epic flat white at Scroggin Cafe and Eatery before heading over the stunning Crown Ranges to Queenstown, the adventure capital of New Zealand. Queenstown is full of adrenaline-fuelled fun, stunning hikes, family-friendly activities, and some of the best food and drink in the South Island - but it's also one of the more pricier places.
While prices have decreased a lot since COVID-19, bookme is going to be another lifesaver as a backpacker on a budget. Take your pick from a thrilling Nevis Bungy Jump or Skydive, the Shotover Canyon Swing, a wine and cheese cruise, jet boating, or paragliding, just to name a few.
A trip to Queenstown wouldn't be complete without trying a famous Fergburger for dinner. Operating for 20 years, this famous joint has hosted celebrities such as Justin Bieber, Orlando Bloom, and Ed Sheeran - and the burgers are as good as the hype. Be prepared to wait in line; but know that this is part of the Fergburger experience!
Check into one of the many hostels in the evening, with some of the top-rated being Adventure Hostel and its sister Hostel, Adventure Q2. Hit the local bars with the myriad of other backpackers that these hostels attract, and experience what the Queenstown nightlife has to offer.
Top backpacker tip: make use of bookme and book a Milford Sound Tour and Cruise for the following day. Choose from a half drive/half coach option, or a coach the whole way. Although you will pay a bit more, a coach the whole way gives you the chance to fully take in some of the most picturesque scenery you will ever encounter, and cuts down on the amount you will pay on petrol.
Day 5:
Rise early and head on the day trip to Milford Sound. These all-inclusive packages will provide you with a rich history and culture of this world-renowned wonder, where plunging cliffs and raging waterfalls meet the mysterious waters below. It's going to be a long drive, so take the opportunity to meet the other backpackers on your coach and share backpacking experiences together.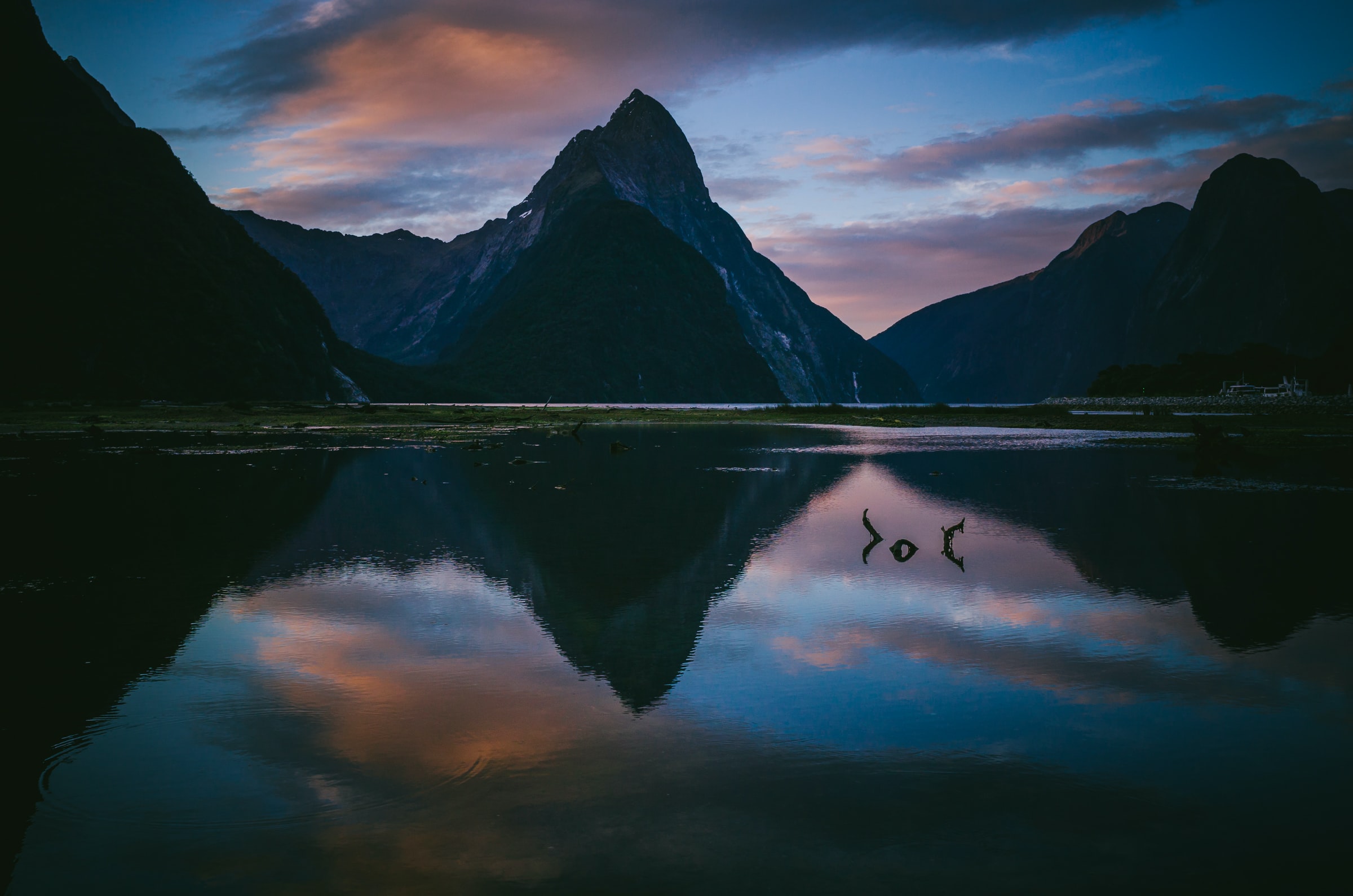 This will be a 12-hour day at least, so make sure you bring enough food for the whole journey. While the cruises do sell food on board, it can get pretty pricey, fast! Make sure you bring your camera, as this Unesco World Heritage site within Fiordland National Park is one you'll want to remember.
These tours start and finish in Queenstown, so stay another night at your backpacking accommodation and make the most of their sweet kitchen facilities!
Day 6: Jump in the car and take the 4 ½ hour drive to Franz Josef Glacier via Haast Pass. Situated on the West Coast, this natural wonder is one of the steepest glaciers in New Zealand. You can walk the 1 ½ hour round trip to the base of the glacier through sweeping forestry and nature without a guide to save on money.
With any luck, you'll be there on the right night to mingle with backpackers over all-you-can-eat pizza at Monsoon Bar & Restaurant. Swap stories, gorge yourselves, and basque in another epic backpacking experience in New Zealand.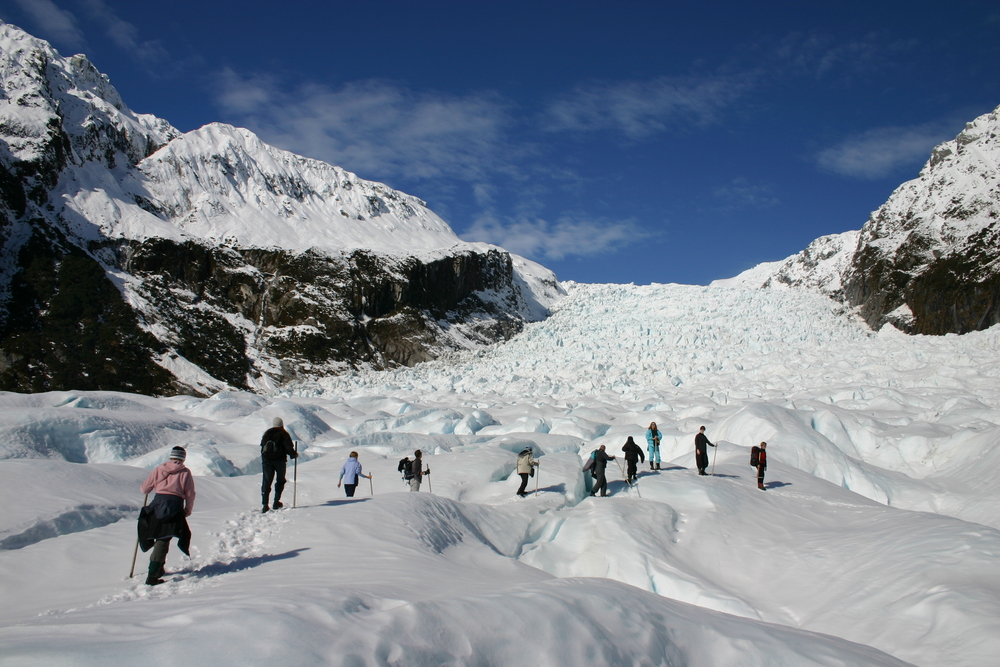 Spend the night at the YHA Franz Josef, situated on the edge of the rainforest and a 5-minute walk to town.
Day 7: Head up the rugged West Coast of New Zealand towards Westport, stopping in the gold mining back town of Hokitika. Known for its pounamu (greenstone), mining history, and whitebait, this quaint town on the edge of the Tasman Sea feels like you've stepped back in time.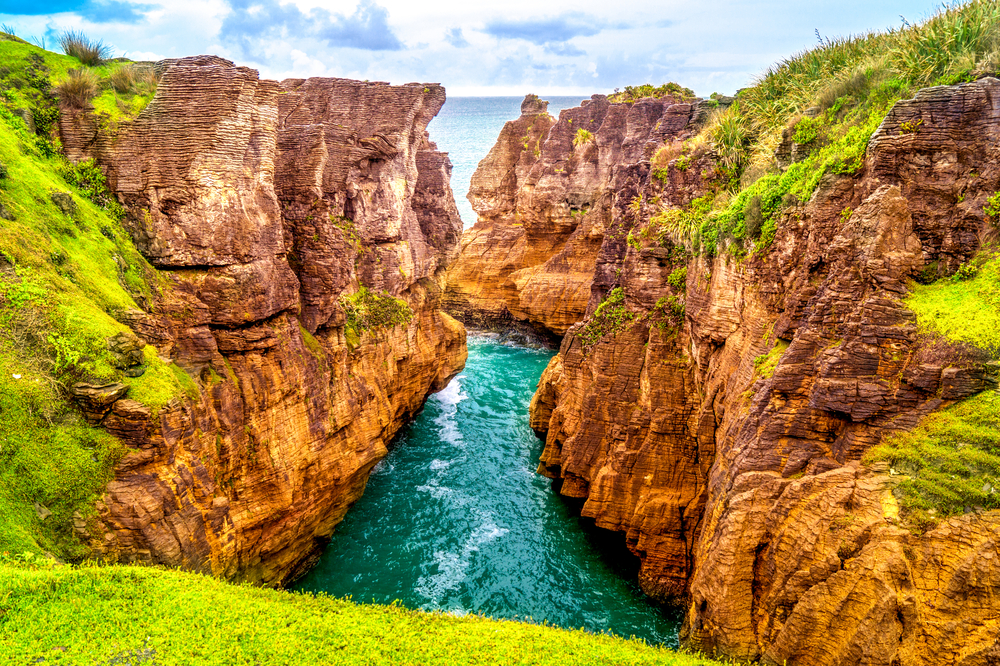 Continue up the road to Greymouth and along to the settlement of Punakaiki. Famously known for the limestone formation of 'pancake rocks' within Paparoa National Park, this is one of the most visited natural attractions on the West Coast, with impressive blowholes and beautiful rugged coastline. Give yourself 20-45 minutes to walk to this attraction, and learn about the history and geology of this wonder along the way.
Potter another 50 minutes up the coast to Westport, an old gold mining town and the oldest European settlement on the West Coast. Situated on the end of the Buller River, there are plenty of opportunities to learn about the history of this place in the Coaltown Museum and Denniston Plateau, an abandoned coal mining area with stories told through interpretation panels. Treat yourself to a cuppa and some delicious homemade food at Kathrin's, a charming German eatery that provides both eat-in and takeaway services, and spend the night at Bazils' Hostel & Surf School.
Day 8: Hit the early morning surf with the other backpackers in your dorm before heading north east towards Abel Tasman National Park.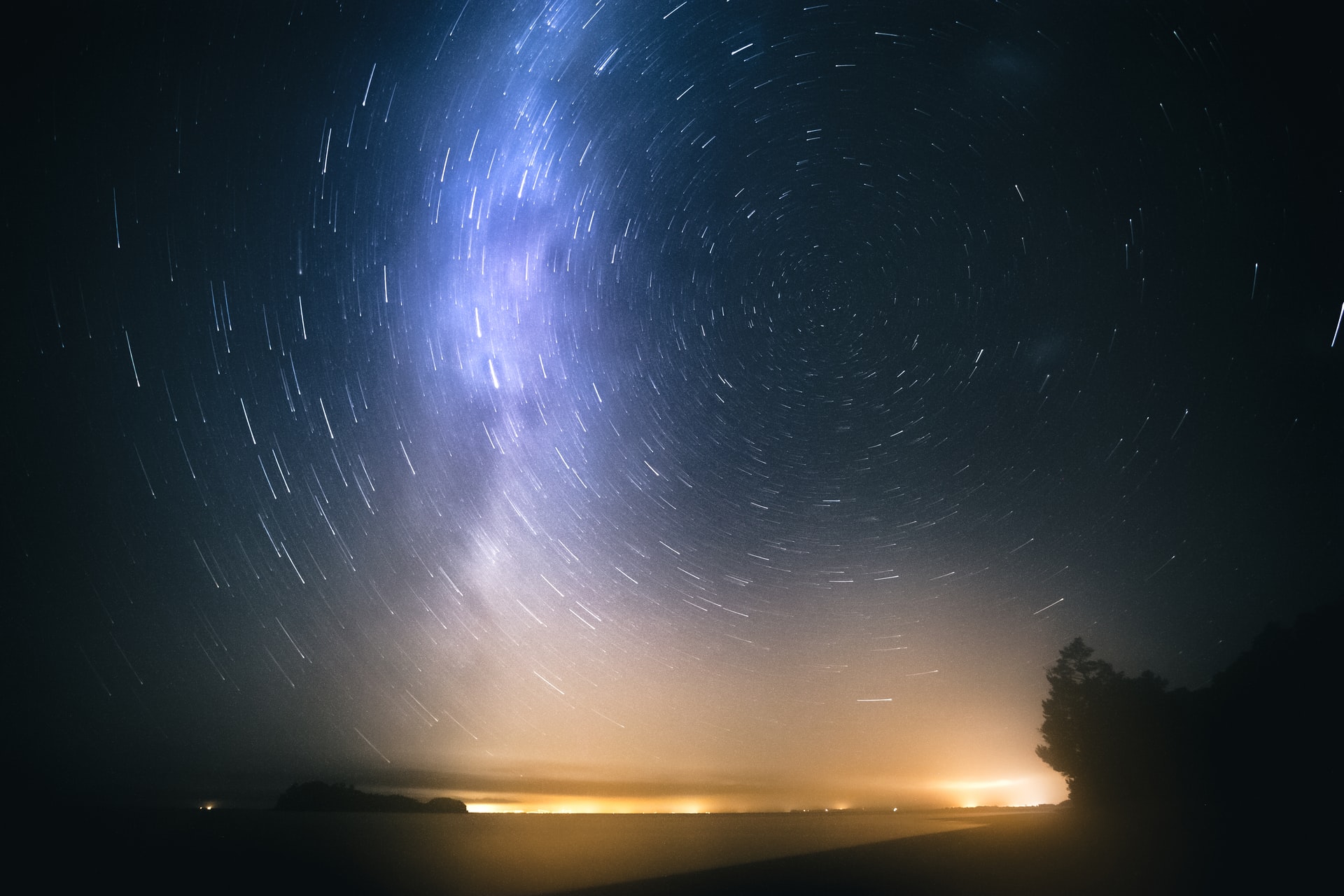 However you choose to explore this national park, whether by land, kayak, scenic cruise, water taxi or catamaran, you'll encounter lush native rainforests and birds that cascade through lagoons, golden sand beaches, and crystal-clear water. With the highest number of sunshine hours in the country, and after the inevitable rain you will have experienced along the West Coast, this is one location you don't want to miss.
Spend the night at the tropical-style Kanuka Ridge Backpackers and Lodge, located on a ridge surrounded by forests and native birds - the perfect place to relax after a busy and active day of exploring.
Day 9: Drive down the road towards Motueka, known for its hippie vibes, cafe culture, and artistic community. Visit the saltwater baths located on the foreshore, or, if you haven't already, take the plunge and book yourself the ultimate kiwi backpacker experience - the one and only Skydive. With views of the North and South Islands, golden beaches and blue seas, and multiple national parks, this is one of the most stunning locations to skydive in New Zealand - and you won't regret it.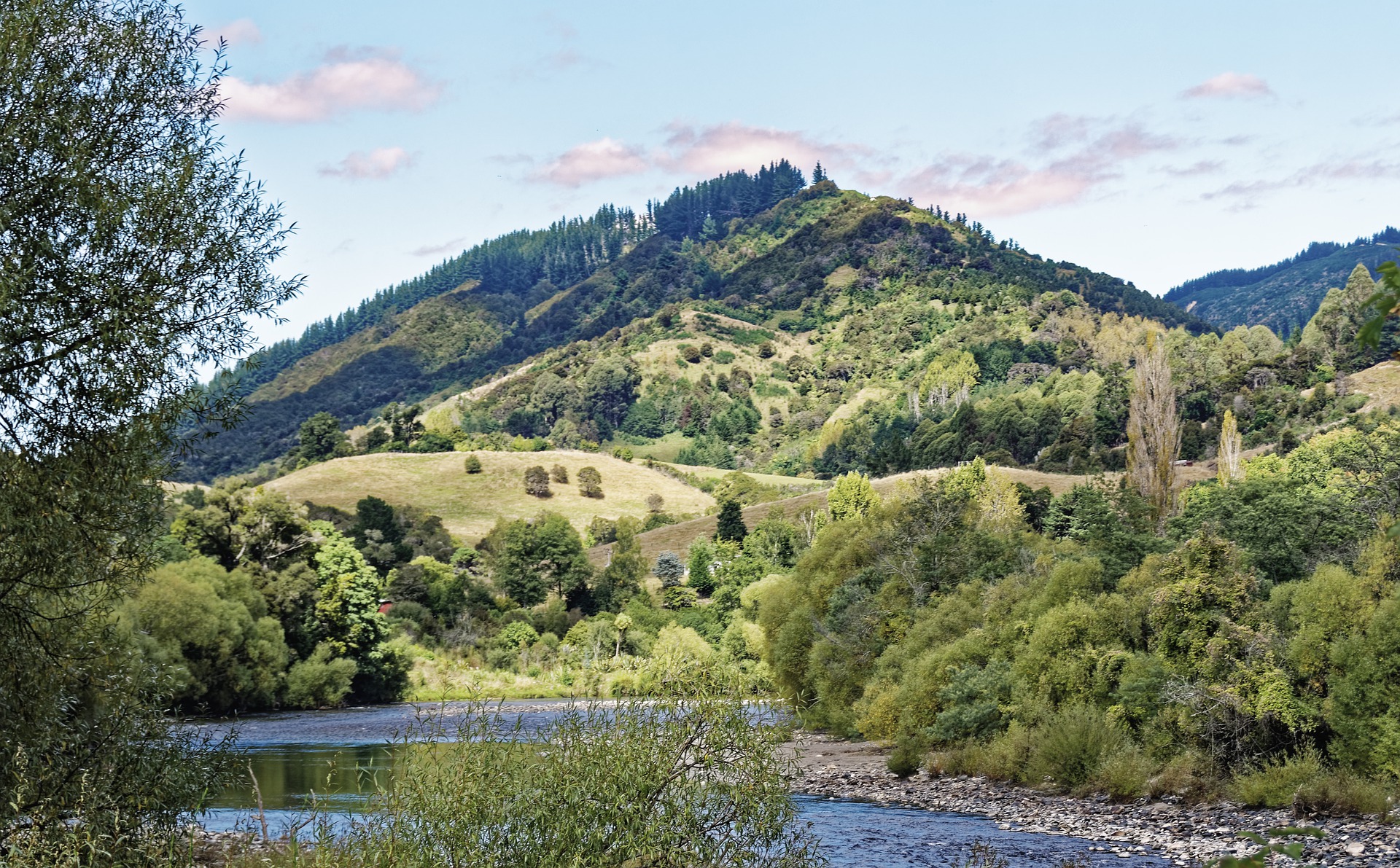 Continue east towards sunny Nelson and browse the local art galleries for a passionate mix of painting, poetry, glass-blowing and jewellery. A foodie's paradise, stop in at Harry Hawker's House & Bar or Urban Eatery Restaurant and Bar for dinner for some delicious, locally sourced food and drink.
Spend the night at Tasman Bay Backpackers and take advantage of the free chocolate pudding and ice cream for dessert.
Day 10: Your last day in the South Island, it's time to make your way back to Picton to catch the ferry - but not before exploring the beautiful Marlborough Sounds in the morning. Covering one-fifth of New Zealand's coastline, the gorgeous Marlborough Sounds are made up of four Sounds: Pelorus, Queen Charlotte, Kenepuru, and Mahau.
A region popular for hiking and kayaking, make the most of the time you have left and have a shot at sea-kayaking in the sounds. Surrounded by remarkable beauty and abundant wildlife, you'll wish you could stay on the waters forever.
Afterwards, make your way to Picton and drop your car off at the rental place before walking onto the ferry to head back to Wellington for your flight. In just 10 days, you will have experienced more landscapes and beauty than some do in a lifetime. The ultimate New Zealand backpacker experience has come to an end, but rest assured, the memories will stay with you forever.